How It Works
This program provides Free Prescription Savings Cards for both brand and generic medications, requires no enrollment, and is open to everyone. Rx4Miracles also generates funds which go back to Children's Miracle Network Hospitals® to support their efforts to improve and change pediatric healthcare and its impact on children, families, and communities.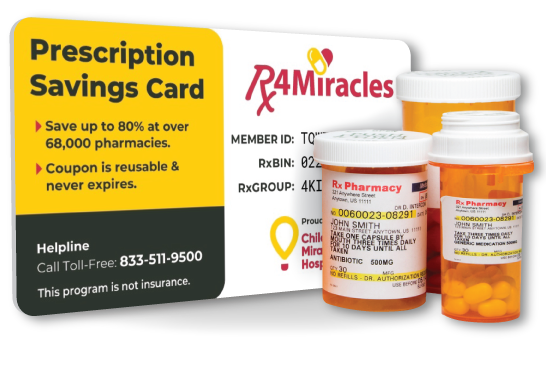 Get your Free Prescription Savings Card
You can print, text, save or email cards free of charge from our website.
Get Rx Card

Bring the card to your pharmacy.
Simply present the savings card with your prescription to the pharmacist.
View Pharmacies

Save on your prescriptions!
The prescription savings card can provide savings up to 80% off your medications.
Search Prices
Frequently Asked Questions
How does the Rx4Miracles prescription savings card work?
The Rx4Miracles card will help you pay less than the cash price for your prescription. They're free to use and are accepted at over 68,000 participating pharmacies across the U.S. Your pharmacist will know how to process the information on the coupon card to give you the lowest discount price available.
Who is eligible?
There are no membership requirements to take advantage of Rx4Miracles savings. Unlike insurance programs, there are no income, age, pre-existing condition, deductible, or waiting period restrictions. Rx4Miracles is designed to help patients nationwide who do not have prescription drug coverage or who have coverage but are subject to large deductibles, large co-pays, formulary limitations, dosing limitations, gaps, and/or any cash out-of-pocket expenses.
How much is the Rx4Miracles Prescription Savings Card?
The Rx4Miracles card is absolutely free. We provide these savings to everyone that wish to save on their prescription costs. There are no premiums or deductibles associated with this program. The prescription savings card is available free of charge from our website.
Which prescription medications are covered?
The Rx4Miracles card may be used on approximately 20,000 FDA approved brand name and generic prescription medications.